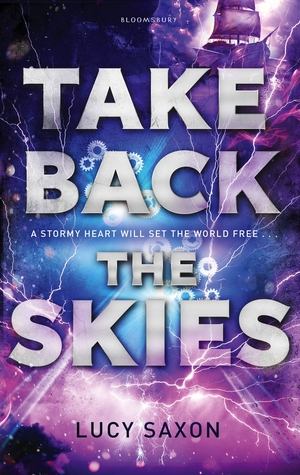 Title:
Take Back the Skies
Author:
Lucy Saxon
Genre:
Young Adult, Science Fiction.
Publication Date:
June 5th 2014
Publisher:
Bloomsbury
Format:
Paperback
Pages:
378
Rating:
2/5
Catherine Hunter is the daughter of a senior government official on the island of Anglya. She's one of the privileged – she has luxurious clothes, plenty to eat, and is protected from the Collections which have ravaged families throughout the land. But Catherine longs to escape the confines of her life, before her dad can marry her off to a government brat and trap her forever.

So Catherine becomes Cat, pretends to be a kid escaping the Collections, and stows away on the skyship Stormdancer. As they leave Anglya behind and brave the storms that fill the skies around the islands of Tellus, Cat's world becomes more turbulent than she could ever have imagined, and dangerous secrets unravel her old life once and for all . . .
We received this book for the publisher in exchange for an honest review.
I tried really, really hard with this one but I just couldn't. I've only DNF'ed three books in my lifetime, but this one has just become my fourth.
I really wanted to enjoy this. For one, it was the first book I'd ever received from a major publisher. Two, the author is only a year older than me and that is massively awesome. I'm not going to lie, I got sucked in by the beautiful cover and the synopsis genuinely sounded like something I would enjoy, but it just wasn't. Or maybe it's the fact her name is Lucy Saxon…I mean what true Whovian could resist that?
The writing just didn't click with me. It's definitely not the worst writing I've ever seen, but it just couldn't hold my attention for very long. It took me almost a month to read only 86 pages of it before I decided I just couldn't continue. I felt bad for having hardly read anything which is why I took so long to DNF it, though I did quickly skim through it before I started this review.
The thing is, I didn't care about Cat. I think I was expecting a sort of Leviathan (by Scott Westerfeld) sort of novel. They both have that steampunk-y feel, and they both take place on ships with girls dressing as guys. Maybe it was my fault for expecting that, but I was just disappointed. I wanted Cat to be this strong character, but I was also expecting her to be witty and smart but I just didn't like her. I liked Fox, very briefly, but then he started to get on my nerves and from other people's reviews and from what I saw when I skimmed, it's evident he gets worse.
All in all, I was disappointed by this. I was expecting so much and it just wasn't there. Quite a few reviewers have all been saying that they believe Lucy Saxon has potential, and I totally agree with that. The idea of Take Back the Skies is amazing, it just wasn't executed in the right way.
Thank you to Bloomsbury for providing us with a copy of this book.