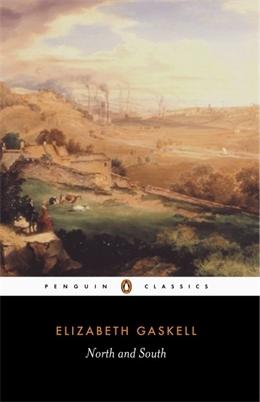 Title: North and South
Author: Elizabeth Gaskell
Genre: Classic.
Publication Date: June 1st 1996 (first published 1855)
Publisher: Penguin Classics
Format: Paperback
Pages: 451
Rating:
4/5
'How am I to dress up in my finery, and go off and away to smart parties, after the sorrow I have seen today?'

When her father leaves the Church in a crisis of conscience, Margaret Hale is uprooted from her comfortable home in Hampshire to move with her family to the north of England. Initially repulsed by the ugliness of her new surroundings in the industrial town of Milton, Margaret becomes aware of the poverty and suffering of the local mill-workers and develops a passionate sense of social justice. This is intensified by her tempestuous relationship with the mill-owner and self-made man John Thornton, as their fierce opposition over his treatment of his employees masks a deeper attraction. In North and South, Elizabeth Gaskell skilfully fused individual feeling with social concern, and in Margaret Hale created one of the most original heroines of Victorian literature.

In her introduction, Patricia Ingham examines geographical, economic and class differences, and male and female roles in North and South. This edition also includes a list for further reading, notes and a glossary
.
I'm not going to lie, I watched the BBC miniseries in conjunction with reading this book and I think it might have taken me a while longer to finish this book if I hadn't. I adore this book, really I do, but it took me a little while to get into it. I was interested with the story, but I felt it was kind of slow to get started and so to inspire myself I watched the miniseries. This saved the book for me, I would have continued reading even without the miniseries, but because I did watch it I fell in love with the characters and the story.
(I couldn't resist this GIF)
I think Margaret has become one of my favourite classic heroines. I don't really know why I love her so much, but I just think she's brilliant. She definitely has her flaws, but I liked how she was a bit too proud at times, it made this so much more entertaining. Let's not even start with Mr Thorton. He's definitely in my top classic men now. I didn't think I'd like him at the start, he's not really talked about like Mr Darcy and Mr Rochester are, but I prefer him over both of them. Again, I don't know why that is but I love him so very much now. There are some characters I'm not so fond of, mainly Margaret's cousin, Edith. I don't know why but she really got on my nerves. I honestly don't know how Margaret put up with her!
I really, really like how this is written. While most of the story focuses on Margaret, sometimes she slips into the mind of Mr Thorton or someone else briefly. I realised when I was reading the book, that I kind of do the same thing in my own writing. I don't know if the fact that I liked it makes me sound a little bit arrogant, but it kind of made me feel a bit more confident about my writing and that's always a good feeling!
The only thing that kept this from being five stars for me was that I felt it dragged in some bits. I love the majority of the book, but there were some parts that I felt really weren't necessary for the story. Those late couple of pages though…I was dying to see Mr Thorton come back into it again!
However, I did really love this book. Now, if you'll excuse me, I'm going to go rewatch the miniseries until the end of time.