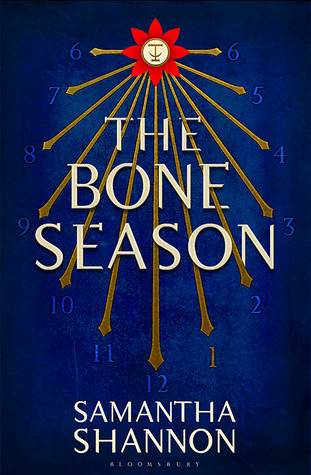 Title:
The Bone Season (The Bone Season #1)
Author:
Samantha Shannon
Genre:
Adult, Fantasy, Romance.
Publication Date:
August 20th 2013
Publisher:
Bloomsbury
Format:
Paperback
Pages:
452
Rating:
4/5
The year is 2059. Nineteen-year-old Paige Mahoney is working in the criminal underworld of Scion London, based at Seven Dials, employed by a man named Jaxon Hall. Her job: to scout for information by breaking into people's minds. For Paige is a dreamwalker, a clairvoyant and, in the world of Scion, she commits treason simply by breathing.
It is raining the day her life changes for ever. Attacked, drugged and kidnapped, Paige is transported to Oxford – a city kept secret for two hundred years, controlled by a powerful, otherworldly race. Paige is assigned to Warden, a Rephaite with mysterious motives. He is her master. Her trainer. Her natural enemy. But if Paige wants to regain her freedom she must allow herself to be nurtured in this prison where she is meant to die.
The Bone Season introduces a compelling heroine and also introduces an extraordinary young writer, with huge ambition and a teeming imagination. Samantha Shannon has created a bold new reality in this riveting debut.
Ah, The Bone Season. I saw this book absolutely everywhere in 2014 — it was all over Goodreads, Booktube and Blogs and I would see it every time I walked into a bookstore. It was about this time last year that I managed to pick it up second-hand. Then, as usual, it sat on my shelves for a year until Michelle eventually convinced me to pick it up.
I was incredibly intimidated by the size of this book. Not only is my copy one of those really tall editions, it's also just a really heavy book for some reason — it's like the publishers thought to themselves 'How do we make this book even more intimidating? Let's make it weigh the same as a small child!' Luckily, the story inside was so good that I pushed through the fact that it actually hurt my hands to read this book.
I'm not really a big of fan of the 'fans of insert book here will love The Bone Season' but I'm going to make an exception for that today. Other people who have read this might not agree but I kind of got a The Darkest Minds meets Angelfall meets Daughter of Smoke and Bone vibe. Don't get me wrong, this is completely unique but there were just moments or elements that reminded me of those books. Again, you might disagree but that's what I felt. I should mention that I adored those three books, so you can imagine my feels about this.
I think my favourite thing was the world, because oh my god how? Like honestly, Samantha Shannon — how did you manage this? What even is this? I admit that bits of this were confusing but I have a feeling that those things are going to be solved and explained later in the series. Did you know that this a seven book series? Can you imagine the development that is going to happen by the end of this series? Does that make you as excited as it does me? (Probably not.)
Characters. Okay, characters. Wow. I really like Paige — she's amazing, and she's my age and I just feel like despite how shit her life is, she's still doing better than me. Yes, I am so terrible at life that someone living in a weird dystopian/fantasy world is doing better than me. It's something I've come to terms with. Anyway, Warden. What even are you? How can you be this amazing? I don't even have proper words to describe you.
So yes, this is an amazing start to a series and you can better that I'm already looking up prices for the second book and trying to work out exactly where I can fit a seven book series on my shelves.
Oh, and Michelle — you were right, again.