So, in my
Top Ten Tuesday
post the other day, I mentioned that I had a few TBRs for my upcoming Europe trip to share with you all. Today, we're starting that little miniseries with probably the biggest TBR you've ever seen in your life. I present to you... my YALC TBR. (If you'd like to learn more about YALC, check out the official website
here
).
(BUT FIRST, little bit of this gorgeous human being drum rolling for you all)
I'm sorry about the oddly stylish pattern here at the bottom. Apparently, I don't have enough books on my TBR.
YEPPPPPPPPPPPPPPPPPPPPPPPPPP.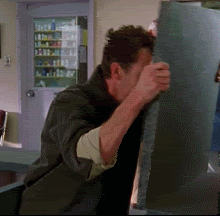 Okay, so obviously I'm not going to list every single book here and why I want to read them or what I think about them individually but I will highlight just a select few. Also, I'm writing this a few weeks in advance so hopefully I've read something off here!
Rivers of London by Ben Aaronovitch
One of the few on here that I actually currently own a physical copy of.
Skulduggery Pleasant by Derek Landy
Crow Moon by Anna McKerrow
Maybe my favourite cover on here. It reminds me a little of The Raven Boys.
Legacy by C.J Daughetry
This is the sequel to Night School which I read...last year, maybe? and reasonably enjoyed. I haven't heard the greatest things about this one, but I'm going to give it a try.
Read Me Like a Book by Liz Kessler
I believe this is a teacher/student romance, but ALSO, LGBTQ+
The Manifesto on How To Be Interesting by Holly Bourne
I borrowed this from the library today (my plan is to read as many of these before I leave Melbourne through my library so I can decide what to buy over there). It's absolutely gorgeous, like really gorgeous because of its red/orange-y pages. Very excited to read this one.
So those are a few of the ones I've picked out. I know this is a crazy TBR guys and I don't honestly expect to read them all. I wanted to give myself options, and I really hate meeting authors without reading at least one of their books first because I like to tell them how much I enjoyed their books and my favourite characters and etc.
If you're going to YALC, let me know what's on your TBR and who you're most excited to see. For me personally, it's a tie between Patrick Ness, Marie Rutkoski and Alice Oseman. If you're not going, let me know if you've read any of these books and what you thought about them.