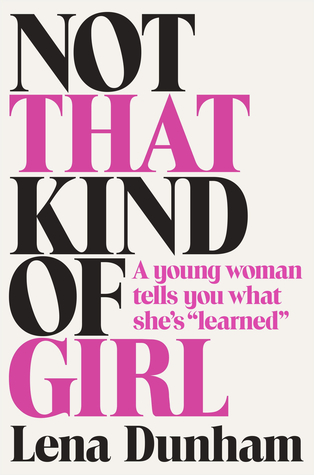 Title:
Not That Kind of Girl: A Young Woman Tells You What She's "Learned"
Author:
Lena Dunham
Genre:
Humor, Autobiography.
Publication Date:
September 30th 2014
Publisher:
Random House
Format:
E-Book
Pages:
256
Rating:
3/5
"There is nothing gutsier to me than a person announcing that their story is one that deserves to be told," writes Lena Dunham, and it certainly takes guts to share the stories that make up her first book, Not That Kind of Girl. These are stories about getting your butt touched by your boss, about friendship and dieting (kind of) and having two existential crises before the age of 20. Stories about travel, both successful and less so, and about having the kind of sex where you feel like keeping your sneakers on in case you have to run away during the act. Stories about proving yourself to a room of 50-year-old men in Hollywood and showing up to "an outlandishly high-fashion event with the crustiest red nose you ever saw." Fearless, smart, and as heartbreakingly honest as ever, Not That Kind of Girl establishes Lena Dunham as more than a hugely talented director, actress and producer-it announces her as a fresh and vibrant new literary voice.
My knowledge of Lena Dunham before I picked up this book was pretty limited – I knew she was the creator/writer/star of Girls and that was about it. Despite that, I picked this up because I'd heard so good things about it and I have this new obsession about trying books that are normally out of my comfort zone. I enjoyed reading it for the most part.
I personally found it funny. Admittedly, there wasn't a lot I could relate too, but there were still things I found funny even though I'd never experienced something like that. It was also reasonably quick and easy to get through – it didn't require a lot of thought so I could read it late at night when I was starting to get a little tired.
There were some things I didn't like. I found it kind of hard to follow at some points – I would get confused with people in the story. The biggest thing was the timeline – there wasn't really one at all, the entire story was just all over the place. I never realised how much I appreciated strict linear timelines until now. There were also a few parts that I just found completely unnecessary or just plain weird.
This might sound strange, but I don't know if it's a book I would recommend. Sure, I enjoyed it but I think you need to be in a particular mood to read something like this.