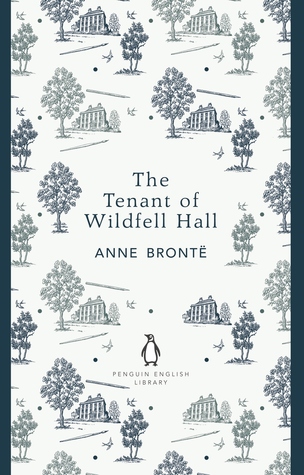 Title: The Tenant of Wildfell Hall
Author: Anne Brontë
Genre: Classics, Romance.
Publication Date: June 28th 2012 (first published 1848)
Publisher: Penguin Books
Format: Paperback
Pages: 524
Rating: 5/5
'She looked so like herself that I knew not how to bear it'

In this sensational, hard-hitting and passionate tale of marital cruelty, The Tenant of Wildfell Hall sees a mysterious tenant, Helen Graham, unmasked not as a 'wicked woman' as the local gossips would have it, but as the estranged wife of a brutal alcoholic bully, desperate to protect her son.

Using her own experiences with her brother Branwell to depict the cruelty and debauchery from which Helen flees, Anne Bronte wrote her masterpiece to reflect the fragile position of women in society and her belief in universal redemption, but scandalized readers of the time.
After reading and absolutely adoring
Jane Eyre
last year, I made it my mission to read through absolutely everything the Brontë sisters ever wrote.
It took me a while, but I finally managed to tick another one off my list. I tried reading Wuthering Heights a few months ago and I didn't love it (I still haven't finished it) so when it came to this one, it really could have gone either way. Luckily, this turned out to be more like Jane Eyre for me.
Firstly, I feel like this one is seriously underrated. When people talk about the Brontë sisters, usually it's all about Jane Eyre and Wuthering Heights. This one definitely deserves some more love, and not just from book bloggers or booktubers but I've already planned another post to talk about that in length.
I think what gets me the most about this one is that Anne Brontë based Helen Graham's (our female lead, if you will) story on her own experiences with her brother Branwell. For those of who don't know, and without spoiling too much, Branwell wasn't exactly going for Man of the Year. As horrible as it is, it's probably because of Branwell's behaviour that this book is so beautiful. You can really feel the rawness in Anne's writing and Helen's hatred of her husband. I don't know how to put this other than 'it gave me the feels'.
Let's talk about another aspect of the writing for a moment. As a Literature student, this book felt like a dream. I absolutely love layered perspectives, stories within stories… however you want to put it. Again, I've got a post coming up about this. Anyway, within this we get to hear from both Helen and Gilbert Markham — Gilbert is telling a story (in letter form) to his friend Halford about Helen, and then within that Gilbert also reads a diary that Helen has written. It sounds confusing, but wow, it is well done. Originally, I had sort of wanted the whole novel to be from Helen's point of view, because that's just what I'm used to, but as the story went on I realised how terrible the story would have been, if it had been told like that. It would have been boring, there would have been no mysterious element to Helen at all — it would have been terrible, just take my word on this.
Just quickly, I want to talk about a couple of the characters. Warning: this is where I get a little sassy. So there's a character named Millicent, and I honestly just imagined her as
Millicent Nankivell
the entire time — I'm not entirely sure this is a compliment, Sorry Millie! Also, there's Annabella who is honestly the worst kind of person ever. Oh god, I lost count how many times I wanted to slap her. Helen, on the other hand, Head Bitch in Charge…seriously. I absolutely adore her, she's such a strong character — her life honestly sucks and yeah, sometimes she's a little naïve but wow. Can we be best friends?
#Helly
(I had to). I'm not 100% sure about this yet, but I think I might even like Helen more than I liked Jane.
So yes, this may have taken me eleven days to finish but it was totally worth it. If you haven't already picked this up, especially if you're a Bronte fan, you should definitely pick this up.