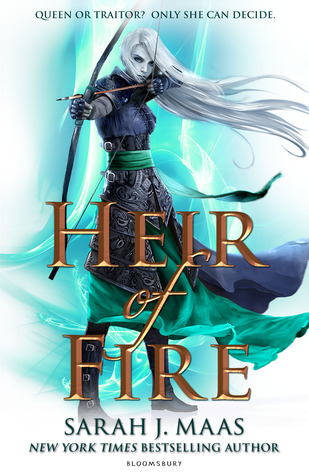 Title:
Heir of Fire (Throne of Glass #3)
Author:
Sarah J. Maas
Genre:
Young Adult, Fantasy.
Publication Date:
September 2nd 2014
Publisher:
Bloomsbury
Format:
Paperback
Pages:
562
Rating:
5/5
C
onsumed by guilt and rage, Celaena can't bring herself to spill blood for the King of Adarlan. She must fight back...
The Immortal Queen will help her destroy the king - for a price. But as Celaena battles with her darkest memories and her heart breaks for a love that could never last, can she fulfil the bargain and head the almighty court of Terrasen? And who will stand with her?
Any of you who know me at all will know that Throne of Glass is one of my all-time favourite series. If you know that, then you probably know how long I've been putting this off.
For those of you who don't know, I bought this the day it came out, literally treasured it — it sat beside me on my bed for like three weeks so I could look over at it and get excited again. I read 240 pages that September… and then nothing.
Yep, I just left it there until now. The thing is, I wasn't doing that because I didn't like it but I just knew what was going to happen. If you're a fan of SJM then I'm sure you are well acquainted with PAIN. That's why I put this off, because I knew that it would absolutely destroy me and I would just spend the rest of my life crying about (or at least, until the next book came out).
It wasn't actually that bad. I don't completely feel as if my heart is going to shatter into a million pieces, which is actually a pretty good feeling, you know? Mainly the ending just made me want to go start a war or something, because I'm a badass assassin.
On another note. Celaena, oh my god. I honestly adore Celaena more than anything in this world. If I could bring one fictional character to life (let's ignore Sirius Black here, shall we?) it'd be Celaena. Sure, lots of people would die but I reckon we could be pretty good friends.
Also, I can't believe the complete 360 I made with some of these characters. I loved Chaol in Crown of Midnight but now I'm like 'meh, you're here, whatever'. I actually liked Dorian again which I did not see coming at all. Words cannot describe Rowan. They really can't… at least not without spoiling anything. Can I just say, I didn't expect a new OTP in this novel but here I am, crying again.
So yes, basically — I'm an idiot for having not read this soon. Yes, I want the next book right this second. No, I am not entirely okay.