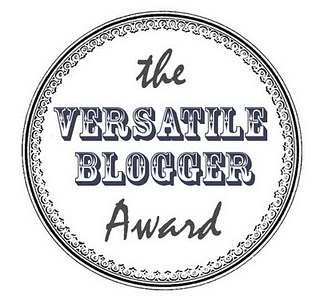 I was nominated for The Versatile Blogger Award by the incredibly lovely
Rachel
of The Very Hungry Bookworm. Rachel has just started up her blog but I've been lucky enough to be friends with her for four or so years now so I can definitely recommend her blog because she's an absolutely gorgeous human being. Anyway...
The rules for this award are short, sweet, and easy to follow:
If you are nominated, you've been awarded the Versatile Blogger Award!

Thank the person who nominated you, just to be nice.

Link back to their blog. They'd be ever so grateful!

Select bloggers to award (ones you recently discovered or follow regularly).

Nominate them for the award (remember to notify them once you do!).

Lastly, tell the person who nominated you seven things about yourself. Easy as that

!
1. I am always introduced to new people (mostly by my dad) as 'The Reader'.
2. Purple has been my favourite colour since I was about eight. A fact made very evident when you walk into my room.
3. I speak English (obviously), French and I'm learning Danish currently. I also really want to learn German...and Italian, and Spanish and every other European language.
4. In about five months time I'll be living and studying (and blogging) in Denmark. (With some travelling throughout Europe in four months time.)
5. I love clocks. I don't really know why...but I have two or three in my room. I like how they look, but I also have this need to be able to see/know the time at any given, well, time.
6. I am notoriously bad at starting books but never finishing them. I probably have a good thirty that I put down for whatever reason and haven't picked up. It's something I'm working on.
7. I am a terrible, horrible, incredibly lazy blogger at the moment. Again, it's something I'm working on.
Now for some nominations! I'm nominating the always wonderful Ebony of Daring Damsels, the very lovely Eugenia of Genie In A Book and a new favourite blogger of mine, Lori of Books o' the Wisp. Thanks again for nominating me, Rach!