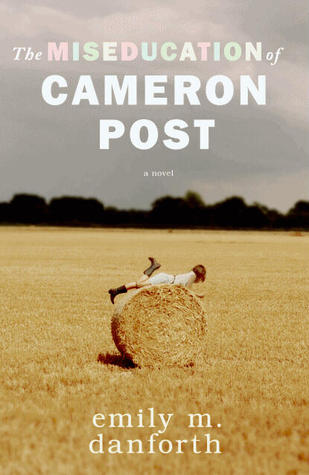 Title:
The Miseducation of Cameron Post
Author:
Emily M. Danforth
Genre:
Young Adult, Contemporary, LGBTQ+
Publication Date:
February 7th 2012
Publisher:
Balzer and Bray
Format:
Paperback
Pages:
470
Rating:
4/5
When Cameron Post's parents die suddenly in a car crash, her shocking first thought is relief. Relief they'll never know that, hours earlier, she had been kissing a girl.

But that relief doesn't last, and Cam is soon forced to move in with her conservative aunt Ruth and her well-intentioned but hopelessly old-fashioned grandmother. She knows that from this point on, her life will forever be different. Survival in Miles City, Montana, means blending in and leaving well enough alone (as her grandmother might say), and Cam becomes an expert at both.

Then Coley Taylor moves to town. Beautiful, pickup-driving Coley is a perfect cowgirl with the perfect boyfriend to match. She and Cam forge an unexpected and intense friendship--one that seems to leave room for something more to emerge. But just as that starts to seem like a real possibility, ultrareligious Aunt Ruth takes drastic action to "fix" her niece, bringing Cam face-to-face with the cost of denying her true self--even if she's not exactly sure who that is.

The Miseducation of Cameron Post is a stunning and unforgettable literary debut about discovering who you are and finding the courage to live life according to your own rules.
* I read this book and wrote this review in mid February, but I'm a little delayed in putting it up.
The Miseducation of Cameron Post had been on my radar for a while. Originally, I'd be drawn to the cover because I thought it looked so serene and beautiful. I didn't really know anything about it, and until one day I watching a booktube video and this was mentioned as having a lesbian protagonist, which sounded interesting. I almost picked it up in the bookstore so many times after that but I always put it down for something else. I probably wouldn't have picked this up if it wasn't for the Bookentine read-a-thon that I hosted with Michelle. I needed a book with an LGBTQ+ character, and this seemed like a good choice.
I didn't really enjoy the first half of this. The first seventy pages take place when Cameron Post is eleven or twelve which was a little weird to read about, by part two she has gotten older, which made this easier to read. The thing I originally found difficult about this book was the fact I had nothing in common with Cameron. She's a lesbian girl living with her grandmother and aunt in Montana in the early 1990's. I'm a straight girl living with my dad and brother in Melbourne in 2015. We're kind of different.
I think the hardest thing were the religious parts of the story. I knew that this was going to be somewhat religious when I started, but I still found it hard to understand and relate to that aspect having grown up in a non-religious family. I should clarify, religion is a major aspect of this book but it's not shoved down your throat in a 'you must believe in this' kind of way.
Moving on to the things I liked. This isn't a spoiler as it is mentioned in the blurb, but I was more interested in the story once Cameron was sent away to be 'fixed'. I've never read anything where a character has been sent away but I learnt about those sorts of camps and programs in high school. Still, it was interesting to see it being portrayed in fiction rather than a documentary. I think I learnt more about it this way, and I also came to realise how truly horrible that would have been. It affected me a lot more than I thought it would.
The story is about more than just Cameron's sexuality. It deals with family issues, friends, self-discovery and to an extent, guilt and grief. I might not have much in common in Cameron on the surface, but I could connect to her on a deeper level.
I think this is a very important book, and I really think that it deserves more attention than what it gets. I definitely recommend it.